Archive for the 'reading' Category
Not finished. The reviews are mixed. Hard core folks aren't going to like it, and I'll admit I was a little confused by her liberal admixture from the book of Genesis in the first chapter, but all in all I find her writing to be interesting on a topic in which I am interested. It's not the hardest of science, but it is a pleasant read… at least thus far.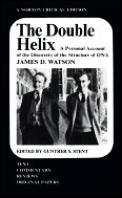 Watson's account of the discovery of the structure of DNA.
Though the online book-buying world has many advantages, the one thing it lacks is serendipity. That moment when, looking for one book, you stumble upon another, pick it up and forgot what you were looking for in the first place. Such was the case of Watson's book. And I checked it out fully thinking that it would most likely be a bit of a bore, only to find Watson's sense of humor and trenchant commentary in regard to the practitioners of science (scientists, if you like) are often narrow-minded and dull-witted. It he at times sexist. Yes. Does that detract from the narrative. In my opinion, not in the least. He captures the time and that time in his own life wonderfully.
David Foster Wallace. I've only read a bit of his fiction, short stories, never venturing into the deeper waters of Infinite Jest, but when I saw this book on the library shelf I thought I had to give it a try. Not quite finished with it, but I doubt math (especially math at the level of transfinite sets) could be handled more eloquently than by DFW.
Freedom by Jonathan Franzen is a good book by a good writer, but it's not as good as "The Corrections." The humor is missing, and there are some stretches where the characters sort of sprawl out and inhabit a vast space of their own boredom, spilling over a bit into mine. There is something about it all that failed to capture me. Perhaps the Berglands were just a little too over-wrought… a little too crafted in their perfections pre-destined to fail. Not necessarily predictable, but like I say, just kind of boring, and no matter what crisis they faced I never felt invested in their lives.  I
That said, I think it's worth a read and at some level I enjoyed it. Though the humor doesn't match "The Corrections," Walter Bergland's melt-down is worth the read, and at a certain level I think Franzen pretty well outlines the zeitgeist, and boredom may be a huge part of our times — not necessarily boredom in and of itself, but that which I read about in the papers and on the web… a void that desires meaning, value, and to be entertained.
Another by David Mitchell… again his command of the subject combined with the nuance of detail make this an immersive experience.
I am unmoved, however, by the cover art.
Benjamin Black aka, John Banville. Stunning writing and characterization.
Vladimir Nabokov. Modern master. I loved it, and I will be reading it again probably within the year.
David Mitchell. Loved it. Recursive function, spinning down into the tale and back out. His facility with language and plot (not to mention the well-wrought details) make this one of the finest books I've read in a long time.
Isaac Asimov's tour de force. Only for the die-hards, of which I do not consider myself one, though I am trying to read some of the sci-fi classics. This one was a labor of love. There are no female characters. Strange.
Fantastic. Now, will I have the courage to read Crash?